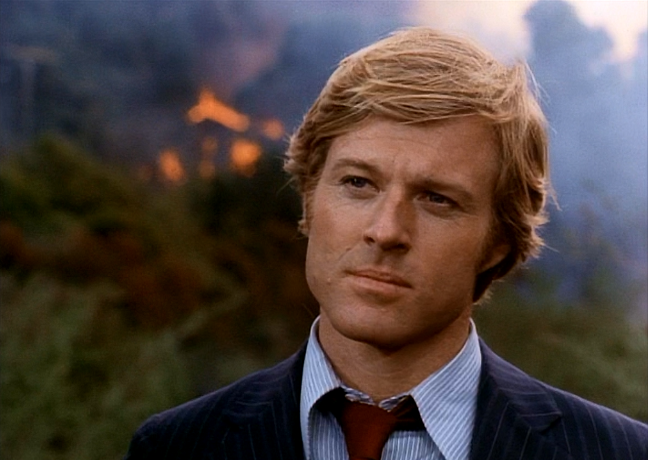 Master of unexpected satire,
'Candidate' will get your vote
Robert Redford's "The Candidate," perhaps incidentally, suggests a theory that must be true: that a candidate is most dangerous in his or her first race. He doesn't carry any baggage, and he is a fresh face. He may not have all the nuance down pat, but if he is indeed a skilled politician, his talent will emerge and his opponent will find it very difficult to contain him. Only after multiple races and sufficient tenure is he vulnerable to the opposition playbook or events on the ground beyond his control.

That is one concept the film might promote, but another it certainly does not endorse is the idea of picking your spots. Bill McKay is not a future star being groomed for political greatness. If he were, he'd have no desire to run against an incumbent like Crocker Jarmon. His father would pull a few strings, and Bill eventually would ease into something like state senator, attorney general, maybe Congress, before possibly making a run at the governorship.

"The Candidate" is sending a different message. It doesn't care how unlikely upsetting Jarmon might be. It shows a no-name politician reaching the big time, and it wants to show why — because someone who once had lofty ideals has sold out. Bill McKay is asked to run, but told he will lose. The party just wants a credible candidate. He can say what he wants, profess his own beliefs, have fun. This works — until Bill and his advisers start to think about winning.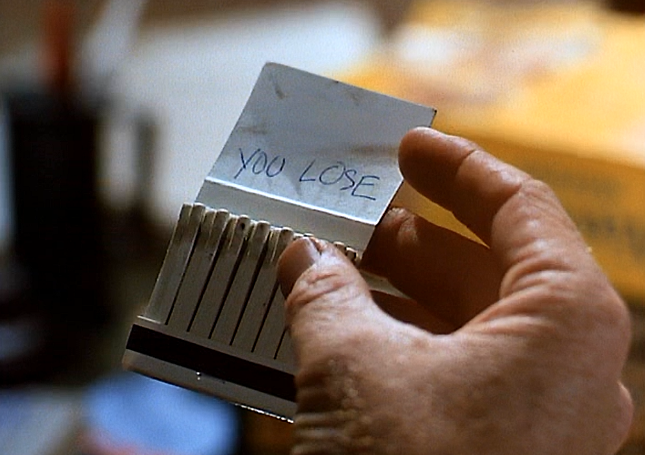 The traditional view of elections is that they are about "issues." Up until about a hundred years ago, this was probably true. There was no TV, not even radio. Candidates were regional types who would align with a particular group or coalition. Viable niche parties would spring up everywhere.

In the last 100 or 150 years the country has grown far more unified. The federal government has greatly expanded into retirement planner, HMO and war/defense machine. Travel and communications have almost eroded regionalism. Nowadays people in Florida watch hockey, people in North Dakota watch NASCAR, and the whole country knows how the folks in Fargo talk.

"The Candidate" is an acknowledgment that issues have mostly ceased to matter, that elections are really decided by personalities, timing and other artificial factors. Whether it's Crocker Jarmon or Bill McKay in one particular Senate seat, are California's beaches really going to be any more or less polluted? Are wildfires going to happen more or less often? Are more people from low-income neighborhoods going to succeed? Or will all of these things be decided by the massively bureaucratic bipartisan political complex?

Bill seems to be on the right side. He wants to do the right thing for the people and not just reward the fat cats who bankroll Jarmon. Too many people are disconnected from their government, and Bill is plugged in for them.

There's only one problem: the voters don't care. Bill is running laughably low in the polls. His handlers begin to take control of his campaign and exploit his artificial strengths. This produces an odd result. As McKay gains on Jarmon, his wife and friends look upon him with more and more skepticism, bordering on disgust. This is not the Bill they once knew.

One key flaw of the film is that it is never quite clear how McKay rises in the polls. We see him gradually improve as a candidate, but he can never ride any momentum for long without another embarrassment. The implication is that he is an attractive face who is too liberal for his electorate, and that whenever he waters down his message, he is suddenly viable. Apparently this is effective enough to melt a 36-point deficit into the teens, then down to 8 or 9 percentage points, then only 3 points right up until Election Day.

"McKay's ways have visibly changed," laments one TV commentator. "Those early hard statements of his are turning into mush." We come to realize Bill feels the same way, grilling his advisers: "I want to know what the hell this campaign is."

Of course, he only experiences what every candidate experiences. Barack Obama once said he accepted government campaign spending limits, then happily chose not to. John McCain took the lead on a legislative compromise on immigration, then ran for president and told fellow Republicans what a poor idea that was. The appeal of "The Candidate" is watching it happen with no stake in it other than entertainment.

"The Candidate" offers some of the best depictions of a tenuous father-son relationship. It is so strange that upon first viewing almost feels like something has been left out of the film. Here we have a first-time political candidate who never bothers to even talk to his father, a former governor? Something clearly went wrong over the years, and no backstory is spent on this. His mother is not in the movie; his father has a new wife. If his father were his enemy, that would be strange, but could be explained as some kind of falling out. To have them be civil, and yet the father offers nothing to the campaign, is stranger.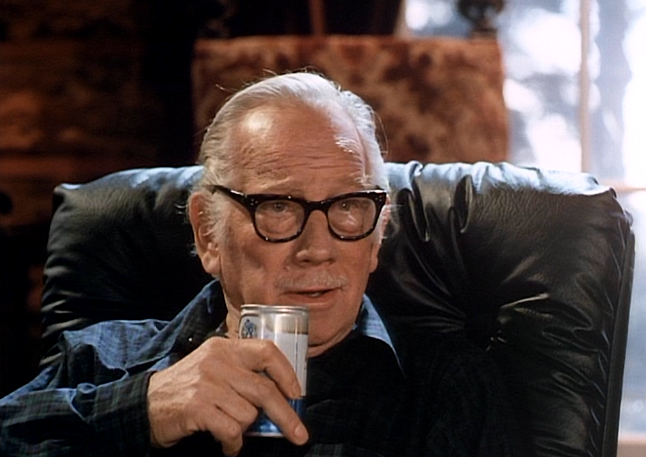 Presumably, Bill has seen his father sell out and disdains him for it. Melvyn Douglas, as John McKay, seems to enjoy his role as much as the retired governor he plays. There is a questionable news report that he is actually endorsing Jarmon, which prompts Bill to (very) reluctantly visit him at home. Redford's awkwardness just screams, "I hate this," but the old man seems to like it. (The idea of him drinking a Hamms was probably early product placement.) His wife asks Bill if he wants anything to drink, and Bill refuses, but, John chuckles, "Have Johnny fix him a sandwich or something ... any man running for the Senate has to want something, right Bud?" The sense is that the old man is not at all troubled by Bill's visit, and is happy to be relevant once again. A cringing Bill is compelled to accompany John on a hunting trail and, as John shoots a rabbit, ask him with as much disdain as possible, "So, will you do it?"

If that seems like it's not Bill's finest moment, there are worse to come; this gesture will seem noble. The old man disappears for a while, then resurfaces at a beautiful, unexpected time. A father has come unexpectedly to the defense of his son. Yes, it's political theater, but that's what the movie is about.

Those who might find political theater dull can at least appreciate several wondrously unexpected scenes that Redford pulls off with ease. In one great episode at a low-level rally, McKay is in the restroom and is noticed by a man who initially seems friendly, then proceeds to call him "s---" and says his dad was "s--- too." Whereas nowadays such a heckler would probably be arrested, McKay bursts out laughing while washing his hands.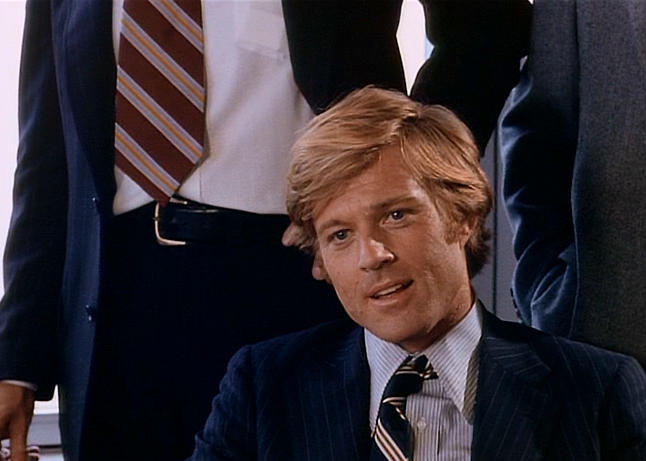 Then there is the classic meeting with an important Teamsters leader, arranged by John McKay. First we see Bill arriving late, confirming the dubious suspicions about him shown earlier. But while we expect him to readily apologize to the union leader Starkey — played by Kenneth Tobey, who absolutely looks the part with the red-hair crewcut — he instead scoffs at his own father's introduction and declares, "I don't think we have s--- in common." After a very uneasy pause, Douglas starts laughing, then soon everyone is laughing, just as when Michael Corleone tells Sonny and the others that he'll kill Sollozzo. And the next thing you know, Starkey is introducing Bill McKay at a large rally. To bring the "Godfather" reference full-circle, they have a similar relationship as Michael Corleone and Senator Geary — the politician, despite his assertiveness, is the one in the pocket.

Like so many films of the late 1960s and early 1970s, "The Candidate" employs minimal background noise. It relies on facial expressions and quick cuts. Director Michael Ritchie also did Redford's "Downhill Racer," which is an extreme example of this style of filmmaking. (He gradually branched out into "The Bad News Bears" and "Fletch.") Sometimes there is music, typically band music similar to what was played at the political conventions from 1968 to 1976. This film is a few years before the time when campaign theme songs would evolve from Big Band to Fleetwood Mac or Bruce Springsteen.

"The Candidate" has the feel of a low-budget, semi-independent film, mirroring its protagonist's campaign, and even though it's Redford, don't expect it to be anywhere near as available as "The Way We Were" or "The Sting."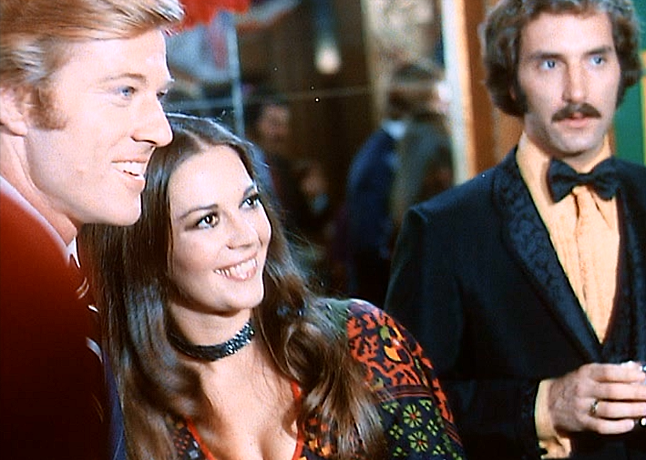 It might have been that in 1972, being handsome was considered a bit too edgy for politics, that unusually attractive people could somehow not connect with the working American. Certainly that is not now the case, if it ever was. From certain angles, Redford tends to resemble Brad Pitt at similar age. There is a wonderful scene depicting him meeting Natalie Wood — playing herself of course, which is kind of bittersweet. Douglas delivers a famous line to the union boss Starkey during their awkward hotel meeting. "I think he's gonna get his ass kicked," Starkey declares. "He's not gonna get his ass kicked," the elder McKay says, convincingly. "Oh yeah?" Douglas pauses before explaining in two words: "He's cute."

"Marvin ... what do we do now?" is Bill's famous closing line. Somehow, it never seems that the U.S. Senate is the right place for Bill, and the opinion here is that he will quickly grow jaded with the bureaucracy and coast-to-coast travel. Two terms, then on to something else. Redford would appear a few years later in a movie that still makes young people want to enter journalism. "The Candidate" is a warning to any wanna-be politician.


4 stars
(November 2008)
(Updated February 2015)


"The Candidate" (1972)
Starring Robert Redford as Bill McKay ♦ Peter Boyle as Lucas ♦ Melvyn Douglas as John J. McKay ♦ Don Porter as Jarmon ♦ Allen Garfield as Klein ♦ Karen Carlson as Nancy ♦ Quinn Redeker as Jenkin ♦ Morgan Upton as Henderson ♦ Michael Lerner as Corliss ♦ Kenneth Tobey as Starkey ♦ Chris Prey as David ♦ Joe Miksak as Neil Atkinson ♦ Jenny Sullivan as Lynn ♦ Tom Dahlgren as Pilot ♦ Gerald Hiken as Station Manager ♦ Jason Goodrow as Boy in commercial ♦ Robert De Anda as Jaime ♦ Robert Goldsby as Fleischer ♦ Michael Barnicle as Wilson ♦ Lois Foraker as Large girl ♦ David Moody as Watts Heckler ♦ George Meyer as Man in Urinal ♦ Dudley Knight as Magazine Editor ♦ Van Amburg as Himself (ABC) ♦ Richard Bergholtz as Himself ♦ Jesse Birnbaum as Himself ♦ Ken Cory as Himself ♦ Senator Alan Cranston as Himself ♦ Judy Fayard as Herself ♦ Leslie Allen as Mabel ♦ Irving Israel ♦ Gene Cantamessa ♦ Susan Demott as Groupie ♦ Maury Green as Himself ♦ Cedrick Hardman as Himself ♦ Senator Hubert H. Humphrey as Himself ♦ Lu Hurley as Himself ♦ Ken Jones as Himself ♦ Walter Krabien as Himself ♦ Grover Lewis as Himself ♦ Gary Liddiard ♦ Senator George McGovern as Himself ♦ Terry McGovern as Himself ♦ Robert Moretti as Himself ♦ Harvey Orkin as Himself ♦ Julie Payne as Woman ♦ Dick Poston ♦ Rollin Post as Himself ♦ Nelson Rising ♦ Elsie Ritchie ♦ Howard K. Smith as Himself (ABC) ♦ Bill Stout as Himself (CSS) ♦ Barry Sullivan as Voice of McKay, Narrator (voice) ♦ John V. Tunney as Himself ♦ Jesse M. Unruh as Himself ♦ Congressman Jerome Waldie as Himself ♦ Ward Wardman ♦ Dick Whittington as Himself ♦ Natalie Wood as Herself ♦ Mayor Sam Yorty as Himself ♦ Bruce Chesse as Mr. Rich ♦ Broderick Crawford as Voice of Jarmon, Narrator ♦ Pat Harrington Jr. as Dinner MC ♦ Lee Stanley as McKay's High School Friend ♦ Stanley Tretick as Photographer ♦ Mike Wallace as Himself (on TV) (archive footage)

Directed by: Michael Ritchie

Written by: Jeremy Larner

Producer: Walter Coblenz
Associate producer: Nelson Rising

Original music: John Rubinstein
Cinematography: Victor J. Kemper ♦ John Korty
Editing: Robert Estrin ♦ Richard A. Harris
Casting: Hoyt Bowers
Production design: Gene Callahan
Set decoration: Patrizia von Brandenstein
Costume design: Patricia Norris
Makeup: Gary Liddiard